Abadi: Kurdistan is close to bankruptcy and must recognize the authority of the Constitution
10/19/2017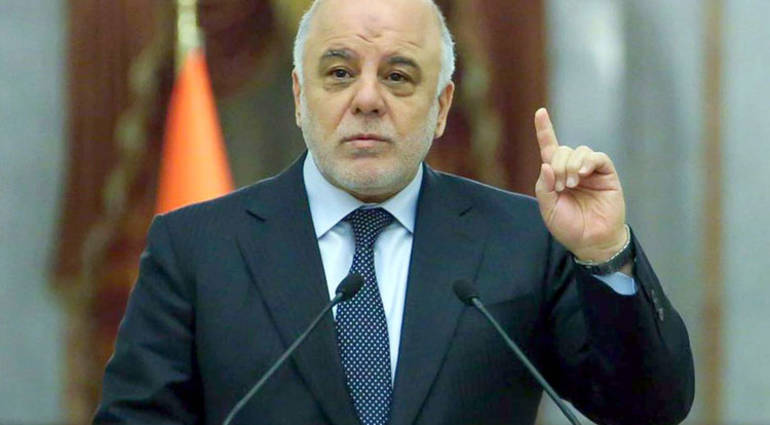 Iraqi Prime Minister Haider al-Abadi said on Thursday that the Kurdistan Regional Government (KRG) was "close" to bankruptcy because of the corruption of a few officials and their families, calling on them to recognize the authority of the Iraqi constitution and engage in dialogue on this basis.

"Iraq should be able to demonstrate its ability to use the democratic foundations to resolve internal conflicts," he said in a newspaper article published in the New York Times. "The Kurdistan Regional Government must recognize the authority of the constitution and engage in dialogue on this basis."

Abadi said that as prime minister in Iraq, he must act in accordance with the constitution to protect all the Iraqi people and keep the country united.

"To achieve this, the government has strengthened and extended its federal mandate, the federal authority on national borders, oil exports and customs revenues," he said, adding that "the redeployment of Iraqi forces this week to parts of Kirkuk and other areas in northern Iraq agree With this approach. "

"The elements of the federal forces of the army and the fight against terrorism, police and rapid deployment units come from many ethnic and religious groups in Iraq, including the Kurds, and the spread was not an attack on Kurdish citizens or the city of Kirkuk," noting that "it was An Iraqi federal process aimed at restoring federal authority to areas under government control until 2014. "
http://www.skypressiq.net/2017/10/19/%D8%A7%D9%84%D8%B9%D8%A8%D8%A7%D8%AF%D9%8A-%D9%83%D8%B1%D8%AF%D8%B3%D8%AA%D8%A7%D9%86-%D9%82%D8%B1%D9%8A%D8%A8%D8%A9-%D9%84%D9%84%D8%A7%D9%81%D9%84%D8%A7%D8%B3-%D9%88%D8%B9%D9%84%D9%8A%D9%87%D8%A7-%D8%A7%D9%84%D8%A7%D8%B9%D8%AA%D8%B1%D8%A7%D9%81-%D8%A8%D8%B3%D9%84%D8%B7%D8%A9-%D8%A7%D9%84%D8%AF%D8%B3%D8%AA%D9%88%D8%B1