Barzani wants "guarantees" to meet Washington's desire to postpone the referendum on the secession of Kurdistan
08/12/2017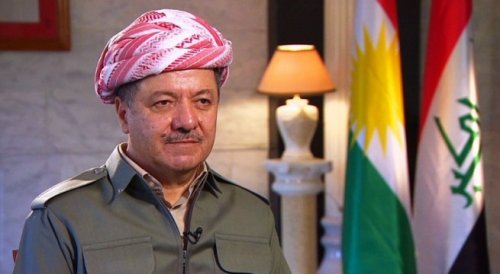 The president of the Kurdistan region said in a telephone conversation with US Secretary of State Rex Tillerson, "guarantees" and "alternatives" to meet the desire of Washington to postpone the referendum on independence, stressing that "the people of Kurdistan will go on its way and decide its fate."
A statement to the presidency of Kurdistan on its website that Tillerson telephoned Massoud Barzani, expressing Washington's desire to postpone the referendum on the independence of the region and "its support for the continuation of talks and negotiations between the region and Baghdad."
The statement pointed out that Tilerson "praised the role of the Peshmerga forces in the elimination of a preacher," and welcomed the role of Barzani and the Kurdish political leadership and "the decision to form a high-level delegation from the province to Baghdad to negotiate with them on political matters."
In this context, Barzani said that a delegation from the region "will visit Baghdad soon to discuss issues concerning the future of relations." Barzani, according to the statement, "What are the guarantees that can be provided to the people of Kurdistan in return for postponement of the referendum, and what alternatives will replace the self-determination of the people of Kurdistan."
"Barzani said that" the partnership and peaceful coexistence, which was the main objective of Kurdistan with Iraq in the successive historical stages experienced by the two sides did not materialize, so the people of Kurdistan will go its way and decide its fate. "
On June 7, Barzani announced that a referendum would be held in the Kurdish areas of Iraq on 25 September to establish an independent state.
http://almanar.com.lb/2447850