This is a condition for Barzani to postpone the separation
08/23/2017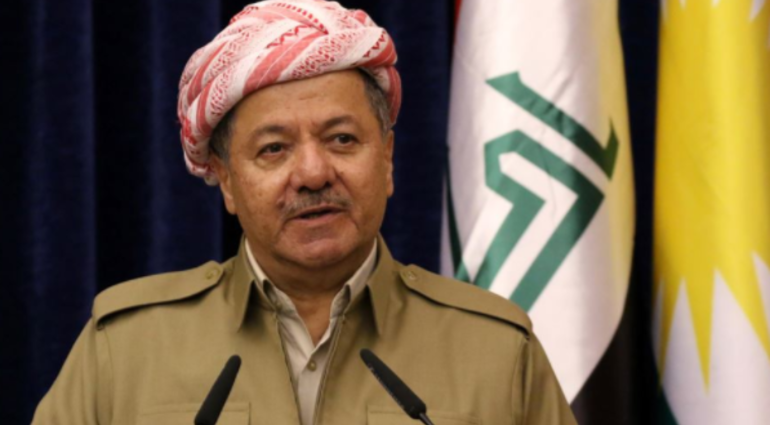 President of the Kurdistan region Massoud Barzani said it is impossible to retreat from the referendum only if the provision of international guarantees written to the Kurds without specifying the nature of those guarantees.

He said during a meeting with a large number of Peshmerga and social figures, followed by "Sky Press" that the Kurds tried all ways to solve problems with the central government in Baghdad, but unfortunately all failed.

He pointed out that he feared that others would ask the Kurdish side to return to the border line during the time of former regime president Saddam Hussein, indicating that many intend to come to Kurdistan to say go back to that line, leaving the areas of Khanaqin, Kirkuk, Sinjar and Makhmor and other areas that were supposed to resolve the subject In accordance with Article 140 of the Iraqi Constitution.

He said in his speech that although there is no doubt in the Kurdish areas, but Baghdad did not implement Article 140 came an organization calling the terrorist divided the area in practice.

He said that in order to avoid wars, the Kurdistan region decided to hold the referendum for independence, which he called the wise decision, stressing that "it is impossible for us to withdraw from the referendum and will be held on September 25 next unless there is a written international guarantees, An ambassador here or there does not make us leave this decision. "

"If we succeed, God willing, the independence will succeed, then form your state and your government as you like," Barzani told the people of the region. "I have the responsibility and the willingness to sacrifice myself."

"We want to establish a democratic state that belongs to all components, to emerge from the state of anxiety and hesitation and to become an independent state in order to save future generations of problems in order to live in peace."

During a meeting with representatives of Christians, Yazidis, Turkmen, Armenians and other components in the Kurdistan region, Barzani said: "We will bear anything, but we will not postpone the referendum even if only for one minute."

"There are those who say that the referendum is not in the interest of Iraq and the region and we tell them that postponing the referendum is not in the interests of the Kurds as well."

He pointed out that "the referendum will not affect in any way the war against the organization is calling for" .. He said that "the Iraqi constitution has granted us the right of independence.
" He explained that all the components of the Kurdistan will participate in writing the Constitution of the independent state, "pointing out that" the system of government in the state of Kurdistan will not be federal. "
http://www.skypressiq.net/2017/8/23/%D9%87%D8%B0%D8%A7-%D8%B4%D8%B1%D8%B7-%D8%A8%D8%A7%D8%B1%D8%B2%D8%A7%D9%86%D9%8A-%D9%84%D8%AA%D8%A3%D8%AC%D9%8A%D9%84-%D8%A7%D9%84%D8%A7%D9%86%D9%81%D8%B5%D8%A7%D9%84